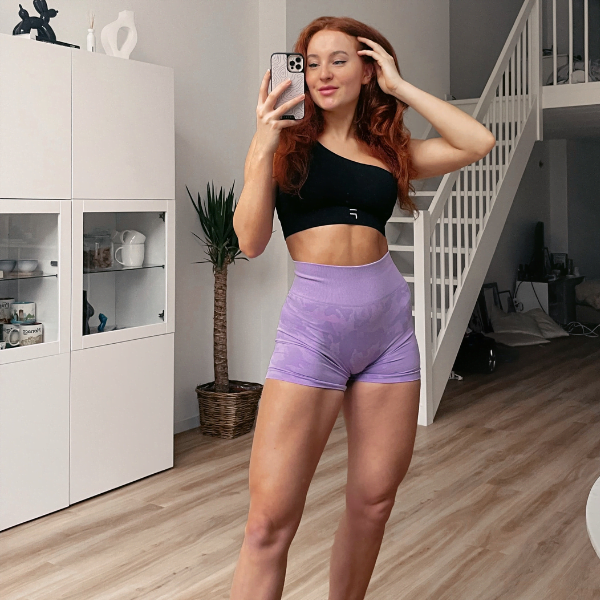 Camo Comfort shorts lilac
I think these are so cute, 1 of the more perfect shorts if you ask me! It sometimes looks like these are slightly see-through, but then I know right away that I have the wrong thong on. So definitely don't put a black, green or other off-colour thong underneath, because then, as with other leggings, you might think it's see-through. Choose a skin tone, white or purple/lilac colour and then you can shine and go wild in the gym with these cool shorts.
Sweatproof: Yes 
Shines through: Use the right colour strings
Comfort stretch: Yes, goes in your buttock without scrunch
Stay in Place: Yes
My size: S/ 1.76 M
Curve leggings Mocha & Halter Top
I love these leggings SO much! The scrunch is good quality and will not tear through and the scrunch accentuates your buttocks nicely. I had been looking for this colour for a long time, unfortunately it is very rare in the Netherlands for the gymmers among us. You just want this, in terms of look, fit and colour. Extra important info: I have long legs and some length and do not experience high-water leggings at the ankles
The halter top has such a lovely open back! There is also a little scrunch in the back, a really nice detail, which pulls the back even more together and leaves you with even less fabric on your back.
This is such a cute combo with the Curve leggings in Mocha! I am also so happy that this sports bra comes in multiple colours, hardly any company I know has this. Especially since I am making a lot of progression in my upper body, I am so proud to have as little as possible covered on my back. I used to think very differently about upper body training, but because of tops like this. Love it!

Legging: top:
Sweatproof: Yes                                           Sweatproof: Yes 
Shines through: No                                      Shines through: No  
Comfort stretch: Yes                                  Comfort & Support: Huge
Stay in Place: Yes                                        Perfect look: Wow!
My size: S/ 1.76M                                 My size:S/ 1.76 M/ Cup: 75/C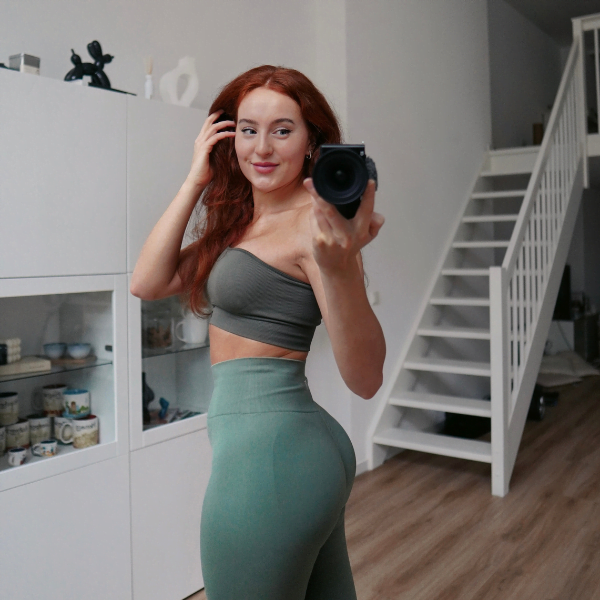 This one is so comfortable! It's super stretchy, but it stays in place during exercise because of the firm band. It also feels like there's an extra stretch at the back which gives your butt more room and makes it fit extra nice.
Sweatproof: Yes 
Shines through: No 
Comfort stretch: Yes
Stay in Place: Yes
My size: S/ 1.76M
Additional important info: I have long legs and some length and do not experience high-water leggings at the ankles